Each year, Valley Watercolor Society holds an Annual Juried Exhibit with rotating judges over the years.
Our next Annual Juried Exhibit will be held in March 2021. Linda Doll, a past president of National Watercolor Society, will be our juror.
Important Dates:
Dec 1 – Tuesday – Entries open on www.onlinejuriedshows.com
Feb 1 – Monday – Entries close at midnight
Feb 10 – Wednesday – Acceptance letters start to go out
Feb 15 – All art images and art information due at SFVACC for production of VWS Exhibit
March 1 – Monday – Exhibit opens
March 7 – Sunday – Virtual Reception and Awards Ceremony, 5:30 – 7:30 pm
March 31– Monday – Exhibit ends / VWS Exhibit gets archived on www.sfvacc.org
CLICK HERE TO SEE THE 2021 VWS DIGITAL SHOW CARD
Check out our 2020 show, held March 3-28, 2020:

Click on any image to open gallery. Then use arrow keys to scroll through. Click "i" to toggle titles on or off. Press ESC at any time to come back to the thumbnails. Scroll down to see full prizewinner list.
Awards Gallery:
Full show gallery: Search by title or artist, or click on any image to scroll through all images:
2020 Awards: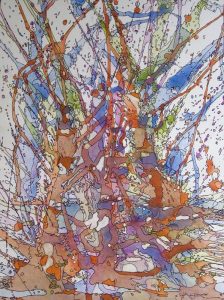 1st place: Peter McDonald, "Turning Point" (above)
2nd place: Gregory Radionov, "Redhead"
3rd place: Fatemeh Kian, "Stay Strong"

Special Honors:
Janis Elias, "The Grill and I"
John Detrick, "No Fishing From Ramp"
Susan Gesundheit, "Arezzo"

Honorable Mentions:
Bob Hernandez, "Ballerina 2"
David Deyel, "Red Arch"
Debra Reynolds, "Wild Irises"
Gary Friedman, "Splash"
Karen Holly, "Amber Reflections"
Lori Pollack, "Hydrangea"
Lori Pollack, "Urban Nest"
Marietta Petrini, "Todd"
Pat Ralston, "Geo"
Spencer Mackay, "Zuma"

To see works from previous years' Exhibits, click below:
For questions, suggestions, or to volunteer, email Sylvia Crosbie